Muddy Boots burgers - TV couple's burgers to appear in Waitrose stores
Posted: 05 Oct 2010 15:41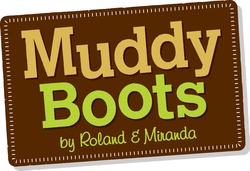 Our friends Miranda and Roland from Muddy Boots Foods have recently launched their burgers at Waitrose. You may remember Mirandra and Roland from the BBC programme High Street Dreams. They were successful pitching their fantastic organic beef burgers to Waitrose. Look at http://www.muddybootsfoods.co.uk/
The couple who left London and their jobs to move back to their home county in December 2008 with their mission to rebrand the humble beef burger, got a lucky break in December 2009 when they appeared in BBC One's High Street Dreams, a mentorship opportunity with business gurus Jo Malone, Nick Leslau and William Kendall.

The TV show and experience transformed their business and gave them the opportunity to pitch their product to Waitrose. They were successful and have spent the last four months busily preparing everything and even redesigning brand new packaging for the big launch.
Their burgers are now in the nine Waitrose stores nearest to the farm where they live: Droitwich, Great Malvern, Cheltenham, Stourbridge, Harbourne, Four Oaks, Alcester, Hall Green and Wolverhampton; and also the John Lewis Food Hall on Oxford Street in London.
We know Miranda and Roland because we are both from Worcestershire and are help each other out. I promise you these are the best burgers out there. We wish Miranda and Roland every success. Neil & Laura Westwood
Tagged in: Muddy Boots Foods, Waitrose